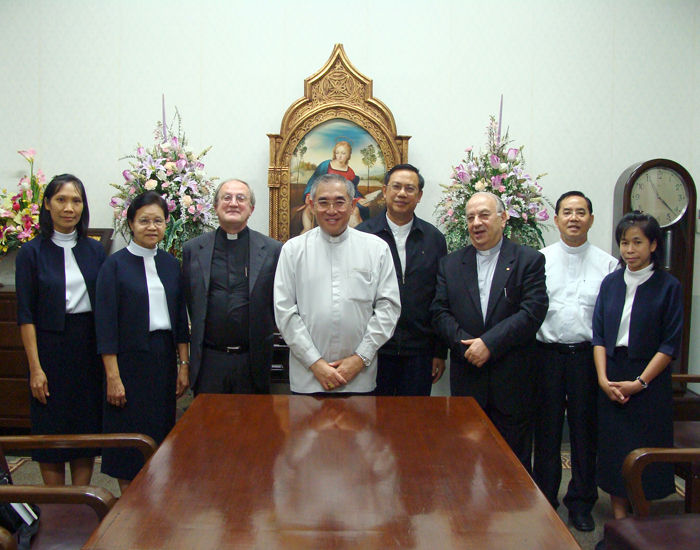 Thailand - The Cause of beatification and canonisation of Fr. Carlo Della Torre
ANS - Bangkok) – On 28 December Fr Enrico dal Covolo, Postulator General for the causes of the saints of the Salesian Family had a meeting with Archbishop Francis Xavier Kriengsak of Bangkok, to request the opening of the diocesan enquiry.
Even though the Holy See granted the "nulla osta" for the introduction of the Cause of Fr Carlo Della Torre on 14 July 2003, for various reasons connected especially with the complicated events concerning the development of the Institute he founded, the diocesan enquiry for the beatification and the canonisation of Fr Della Torre has not yet begun.
The "Servant of God," born at Cernusco sul Naviglio, in the Province of Milan, on 9 July 1900, did his secondary school studies at the "Cardinal Cagliero" Salesian Missionary College in Ivrea. He was sent first to China and then to Thailand, where he made his first religious profession at Bang Nok Khuek,  the mother house of the Salesian Thailand mission.
In 1954 he founded the "Daughters of the Queenship of Mary" a female Secular Institute of diocesan right. Like Fr Variara before him he had to suffer a great deal on account of his foundation, even to the point of having to leave the Salesian Congregation for thirty years. He died, a Salesian at Bangkok aged 82.
To encourage the opening of the diocesan enquiry, Fr dal Covolo met Archbishop Kriengsak Kovithavanij, who on 16 August 2009 had made his formal entry into the Archdiocese of Bangkok. Accompanying the Postulatore was the Salesian Provincial of Thailandia, Fr John Bosco Thepharat Pitisant, the Vice-Postulator, Fr Joseph Banchong Santisukniran and the Superior of the Daughters of the Queenship of Mary. The frank and cordial discussion gave hope that soon the Archbishop will start the  diocesan enquiry.
During his stay in Thailand, the Postulator also met the Nuncio Apostolic, Archbishop Salvatore Pennacchio, the President of the Bishops' Conference of Thailand, Archbishop Luigi Chamnien Santisukniran, the Salesian Bishop of Surat Thani, Bishop Joseph Prathan Sridarunsil, and also had a number of meetings with the Salesian Family and with the Italian community in Thailand.
Published 30/12/2009